EDMONDSON: the roots
EDMONDSON Family Tree
Webtrees representation.
This EDMONDSON Family Tree currently numbers 923 people and goes back to around 1523. The data shown is based on a gedcom file dated 14 August 2023. This tree can also be seen on Ancestry, but you will need an Ancestry account to view this.
The Edmondsons of Dent
My father's mother's maiden name. Our branch of the Edmondson family originated in Dent, Yorkshire, before moving to Garsdale around 1850. With the development of the railways, my great-grandfather George Edmondson , born 17 May 1861 in Garsdale, moved to Derby in the mid 1880s.
When he married Maria Dudden in Gloucestershire in 1887, his residence was already stated as being in Derby. George and Maria had 4 children, William, Bessie, George and Emily, all born in Derby.
Click here for a summary of the EDMONDSON Family of Derby
Click here for a summary of the DUDDEN Family of Timsbury
Early Research
Research into our branch of the Edmondson Family started in the early 1980s, when my father WJ Lomas stated his research. At that time we knew that my 2nd great-grandfather William Edmondson (1823-1886) was a schoolmaster in Garsdale, part of Dentdale in Yorkshire, and that he had been born at Stonehouse-in-Dent. Subsequent research that I helped carry out in 1982 established that William's father George Edmondson was born in 1797 in Dent, his father also called George Edmondson was born in 1768 in Dent, while his parents Thomas Edmondson and Agnes Robinson were born in 1732 and 1731, also in Dent. For that reason we called this branch of the family "Edmondson of Dent".
One of the problems checking births, marriages and deaths 200 years ago in the Dent area is the fact that many of the original place names seem to have disappeared. Where is Gibshall-in-Dent, Stonehouse-in-Dent, Bersick-in-Dent? And where is "Kirthwaite", apparently a hamlet of Dent, which is mentioned quite often.
Click here for a discussion on the Location of Kirthwaite
Origins of the Dent Edmondsons
Coming back to the "Edmondson of Dent" family, back in the 1980s we were not at all sure where Thomas Edmondson's parents originated from. We knew that they were called John Edmondson and Agnes Mason. We also knew that Agnes had died in 1754 in Dent, and we had originally thought that John had died in 1736 at Dent. This hypothesis has since been modified (see later) and now we believe that John died in 1767 at Dent. There also seemed to be a Lancaster connection.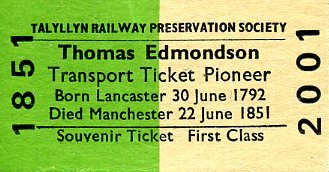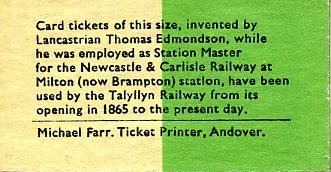 A whole series of Edmondsons originated from there, including the famous Thomas Edmondson (1792-1851), the inventor of the Railway Ticket in the 1840s. In fact we established that Thomas (the ticket man) was the son of John Edmondson, born in Dent in 1761, one of the sons of our Thomas Edmondson born in 1732 at Dent. So Thomas (the ticket man) is my 1st cousin 5x removed!
The Lancaster Connection
Recent research in 2021 has examined in more detail the possible origins of John Edmondson and Agnes Mason, the parents of "our" Thomas Edmondson born in 1732. The most likely candidate birth has been identified as John Edmondson born 19 September 1702 at Horton-in-Ribblesdale, Yorkshire, some 14 miles SE of Dent. He moved to Dent to marry Agnes Mason of Dent on 30 April 1727 in Dent, and thus started the Dent connection.
John's father was also called John Edmondson and he married Alice Burton at Horton-in-Ribblesdale in November 1701. Alice was from Horton, born in 1678, which was why they married there, but John was not. Checking possible birth's for John Edmondson senior we found that there were no suitable candidates in the immediate vicinity of Horton, and that the best candidate was John Edmondson born 10 August 1674 at Lancaster, father of Thomas Edmondson, born about 1650.
We know that Alice died in Dent in 1756, and now we believe that the John Edmondson who died in Dent in 1736 was not his son John (b1702), but rather it was John senior (b1674), Alice's husband. The fact that the burial record states "Householder" makes me believe that it was the head of the family who died in 1736, with his wife Alice dying 20 years later in 1756. Now I believe that John Edmondson b1702 actually died in Dent on 24 May 1767, and that his wife Agnes Mason died 26 May 1754, also in Dent.
Conclusions
The circle seems to have closed: the earliest Edmondson ancestor I have found is Thomas Edmondson who would have been born around 1650 and most likely in Lancaster. One of his children (John b1674 in Lancaster) moved to Horton in 1701 to marry Alice Burton. Their eldest child (John b1702 in Horton) moved to Dent to marry Agnes Mason in 1727 and thus create the Dent dynasty. Many of their descendants stayed in the Dent and Garsdale area until my great-grandfather George Edmondson (b1861) moved to Derby around 1887 to work on the railways, although some, such as John Edmondson (b1761 at Dent), the father of Thomas (the ticket man, b1792), returned to the family origins in Lancaster in the 1780s.
John Lomas
14 August 2023