The Edmondson Family of Derby
EDMONDSON was my father's mother's maiden name. Our branch of the Edmondson family originated in Dent, Yorkshire, before moving to Garsdale around 1850. With the development of the railways, my great-grandfather George Edmondson, born 17 May 1861 in Garsdale, a railway telegraph clerk, moved first to Peterborough (he was there in the 1881 census aged 19), and then to Derby in the mid 1880s. When he married Maria Dudden in Gloucestershire in 1887, his residence was already stated as being in Derby. George and Maria had 4 children, William, Bessie, George and Emily.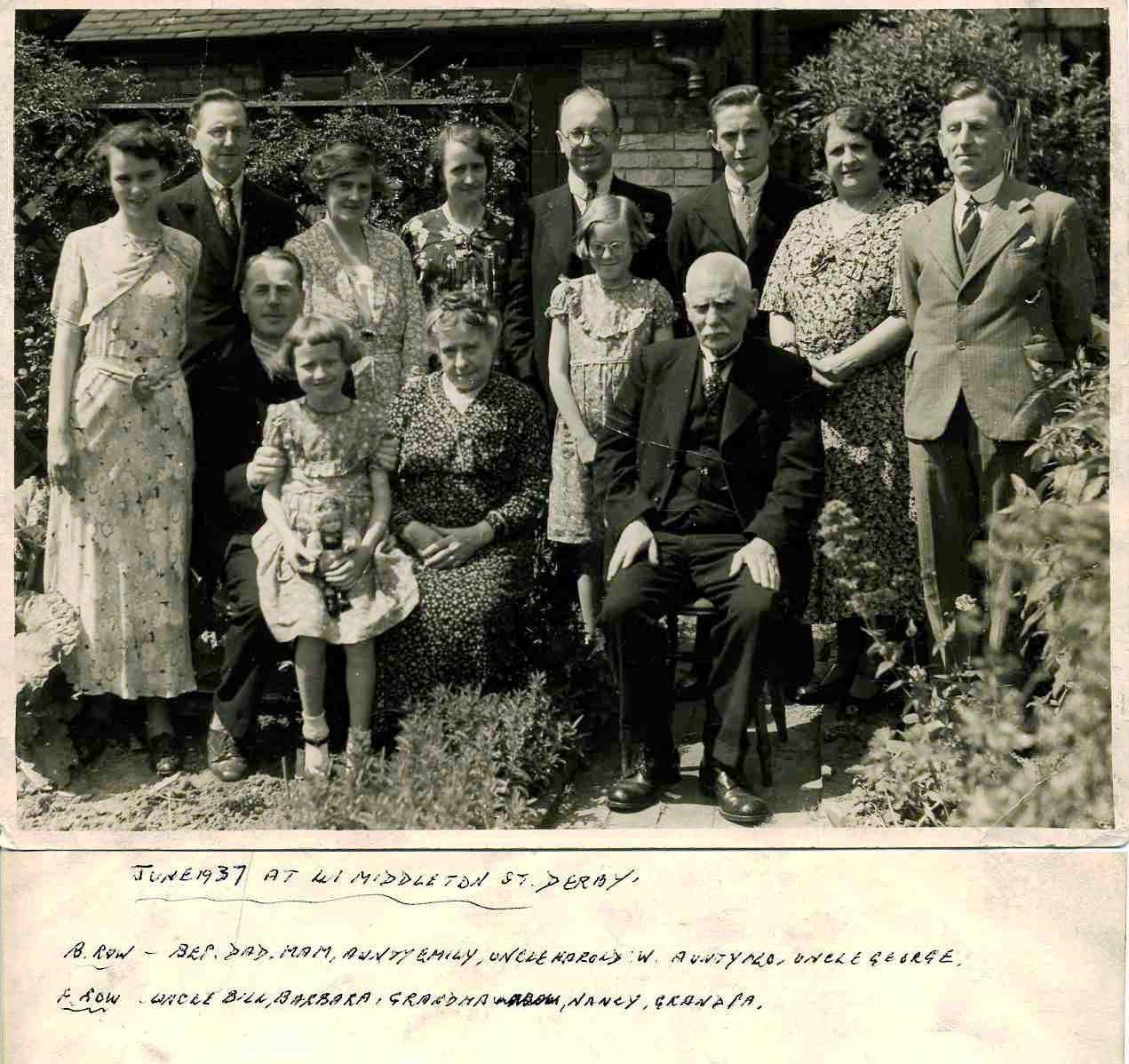 Click here for summary of our immediate Edmondson ancestry (1823-onwards), written in 1982 by my father WJ Lomas. Extracts included below.
William (always known in the family as "Uncle Bill"), was born in 1888. He started out as a schoolmaster, then he took an external degree at London University. In 1917 he was sent to Voghera, Italy as part of the British forces, probably because he spoke Italian, German and French. He spent the rest of his life in Italy, teaching English, until his death in 1985 at the age of 97. He had 2 children.
George, born in 1892, was a Civil Servant, and a "bit of a lad", apparently running off to Paris at the age of 14. He married Florence (Aunty Flo), and lived all his life in Derby.
Emily, born in 1898, married Harold Clements, and lived most of her life in St Albans. She had 2 children.
My grandmother Bessie Edmondson was born on the 26 June 1890 at 10 Rose Hill St, Derby. After leaving school, she was employed at the Royal Crown Derby Porcelain company, hand-painting pottery. Her graduation work was a Royal Crown Derby plate, which I still have, and which can be seen below.
She became quite involved in Church work at St Thomas', Derby, including Sunday School teaching. It was there that she met my grandfather, Harry Lomas, who was a tenor in the choir. They married 17 June 1914 at St Thomas' Parish Church, and then lived most of her life at 82 Pear Tree St, Derby, where I and my brother Ken, were both born.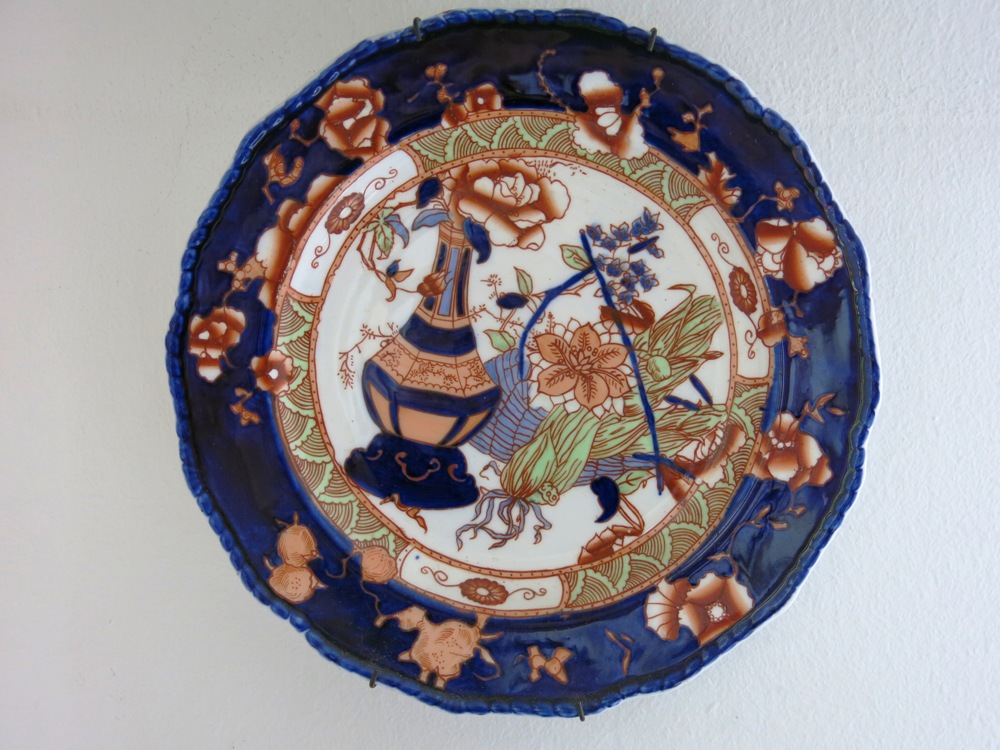 Writing in 1981, my father Walter Lomas wrote of his mother: "A gentle, 'saintly' person who spent a lifetime at the beck and call of and caring for others. Even at Middleton St. (which she may have considered to have been as happy a period as any), she was expected to be the general help. After marriage she had to move in with a rather domineering mother-in-law who made life unpleasant, especially after the birth of her first child Bep. She had a nervous breakdown whilst carrying me. Even after the death in 1922 of her mother-in-law, things were never easy as money was in very short supply, and she still had to go regularly to help out at Middleton St. She did everything possible and more for her own family and I feel that it is a matter of great regret that she never had the chance to taste the more material pleasures of life (even though she herself may never have considered such things important).

She certainly got a lot of pleasure in having Alan (Bep's husband) and my wife Muriel as part of the family and even more so when the 3 grandchildren came along. In later life she suffered from diabetes and died 18 October 1966 at 65 Milldale Road, Long Eaton. I am glad that on the day after her death, I went to look at her in Long Eaton mortuary, and her face had a serene peacefulness that I had not seen for many a year. Although it is now 15 years later, this memory, thankfully, never fades"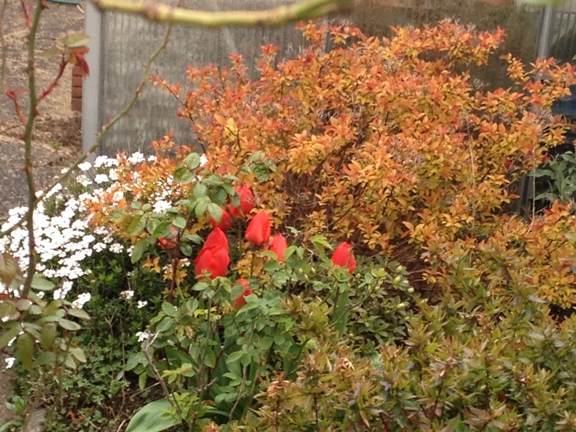 Writing now in 2021, some 55 years after her death, I remember her well, she was a fundamental part of my teenage years. When she contracted diabetes, my grandparents had to leave Pear Tree St in 1961, and lived partly with us and partly with Bep and Alan. so she lived through the 60s revolution with us. I can remember her saying in 1963 that she had been born too soon!
In 1965, she planted some tulips in the garden in Long Eaton, a set of red tulips and a set of yellow tulips. When my mother installed a greenhouse in the garden in the mid 1980s, she had to move the yellow tulips and they never flowered again, until that is 30 years later in 2014, when a couple of yellow tulips appeared, not far from the red tulips, which still come up every year, 50 years later. In the photo on the right, taken in 2014, you can see one yellow tulip behind the red tulips near the greenhouse.
When my mother saw the yellow tulips appearing for the first time in 2014, she said that Grandma Lomas had come to say hello. It was quite poignant, really, as nearly immediately afterwards, my mother fell, broke her hip, and never recovered. Perhaps Grandma had in fact come to collect her.
John Lomas
10 September 2022